Session 1 October 31st, 2006
EN
Trainees were also asked to provide the trainer with their email adress so that they will later be enabled to take part into a forum about Strategies.
The trainees were also given the opportunity to see some learning experiences which relied on the use oid different strategies in the hope they will be elicietd in learning and experiencing innovative practices in their teaching contexts and practice training.
The newly-formed learning community is heterogeneous and hopefully this will turn out into an added value.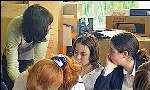 IT
Durante la sessione i tirocinanti si sono presentati, conosciuti e hanno espresso aspettative e timori. E' stato illustrato il contenuto del modulo e la sua possibile organizzazione con riferimento agli obiettivi che si propone. E' stato spiegato che ci si aspetta da loro la costruzione di un prodotto finale le cui caratteristiche potranno essere scelte fra una gamma di possibilità offerte. La data di scadenza sarà negoziata e resa pubblica nel corso del prossimo incontro. Ai tirocinanti è stato inoltre richiesto il loro indirizzo email per permettere loro di partecipare ad un forum di discussione relativamente alle Strategie per l'insegnamento nel prossimo futuro. E' stata inoltre offerta loro l'opportunità di prendere visione di alcuni percorsi di apprendimento che hanno sfruttato le potenzialità di strategie diversificate nella speranza di sollecitare la sperimentazione di pratiche didattiche innovative nei contesti di apprendimento-insegnamento e tirocinio. La nuova comunità di apprendimento è apparsa estremementa eterogenea e, pertanto, ci si augura che questo possa rappresentare un valore aggiunto dell'esperienza.