Sopranos
Why not listen to
Natalie Dessay ?
I am glad to start this page suggesting: classical music .
I am very fond of the Natalie's interpretation of Mozart as for example: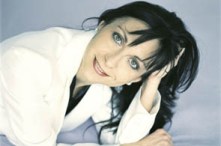 .
'Se tutti i mali miei'
No, che non sei capace'
'Vorrei spiegarvi, oh dio!
which I highly recommend, but also something you can listen to on the net will do.
Just some suggestions
Do you prefer other sopranos?
What about Maria Callas 's ?
Also some religious piece is really worth listening
Marsha Long's