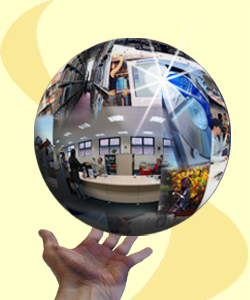 The present section is meant to promote reflection and possible procedures to support students in their effort to construct personal learning paths and knowledge through active and interactive practices of literary and critical study also in cooperative learning options.

Learners will be elicited to read, analyse and discuss stylistic choices, theme selection, problematize hot issues starting from literary texts analyses and intertextual practices. Reference will also be made to the contribution of the different media in view of improving students' critical and interpreting skills about the multiplicity of codes and languages in today's knowledge society.

Writing practice in different formats will be encouraged and supported with adequate and suitable learning tasks. They may involve personal presentations, short essay and paper writing, transparences and slide production for publich report and lead in to academic writing.

Students will be also invited to integrate their final production with different resources appealing to different senses implying arts, music, the cinema and auditory tools in the hope to make them reflective constructors of personal venues of thinking and learning .

The teacher will implement some model texts to supply students both with possible examples of the tasks assigned and instances of perspective analytical and critical learning paths.
Paths concerned with the perception of a European dimension in learning and being active citizens of Europe and the global world will provide students with continuity as for the previous year's strand of knowledge and project implemented.