February 22nd, 2008. From Theory to Practice.
English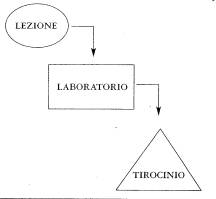 Todays session will be d evouted to illustration of trainees' products related to the implementation of learning-teaching process focussed on strategies. Trainees will show their individual works to the group and explain the reasons of their choices. Strong and week points of their individual works will become the focus of discussion in view of future improvement. All this will foster critical thiking about one's work and favour awareness in view of practice training opportunities and school experience.
Italian
La sessione di oggi sarà dedicata ll'illustrazione da parte dei tirocinanti dei loro prodotti individuali relativi all'implementazione di strategie nell'apprendimento - insegnamento. I tirocinanti mostreranno i lavori individuali al gruppo classe spiegando la ragione delle loro scelte. I punti di criticità e di forza dei lavori diventeranno il focus privilegiato della discussione in vista di miglioramenti futuri. Tutto ciò dovrebbe favorire lo sviluppo del pensiero critico sul proprio lavoro con l'obiettivo di mettersi alla prova durante il tirocinio e l'esperienza scolastica.