October 26th, 2007
During the first section the
programme
including objectives, content and sample activities of the module will be illustrated.
It provides you with an overall idea of the module structure and organization.
After introducing the topics that will be object of study and shared discussion, a workshop was organized about one' linguistic biography. Therefore ideas were shared about what trainees considered effective practices and methods to promote language learning referring to their personal experience as language learners.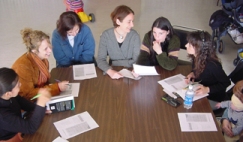 A Plenary Session
will synthesize the results of the workshops.
Some
Guidelines
for the workshop were provided.